From Inside the Red Raiders
As typically happens at this time of year, college basketball has proven adept at eating its own young. For the multiple weeks in a row now, CBS Sports writer Gary Parrish released his Top 25 and 1 heading into the weekend, only to have at least three teams fall on the ensuing weekend.
Luckily — and unlike both polls — college basketball fans don't have to wait a week for updated rankings after changes in action. Parrish updated his Top 25 and 1 on Sunday to account for Saturday's wild action that saw each of the top five teams survive, but general carnage after that point. And his rankings come on the heels of the NCAA Tournament selection committee releasing their top 16 teams, so it's interesting to see how those rankings mesh.
Parrish's rankings saw one new team hop in, one team fall out and another team drop a whopping nine spots. And while most have framed this year as a two-team race, one may be starting to separate from a résumé standpoint, not just among this year's teams, but starting to put up numbers similar to some great teams of the recent past.
Here's a look at Parrish's updated college basketball Top 25 and 1 from Sunday.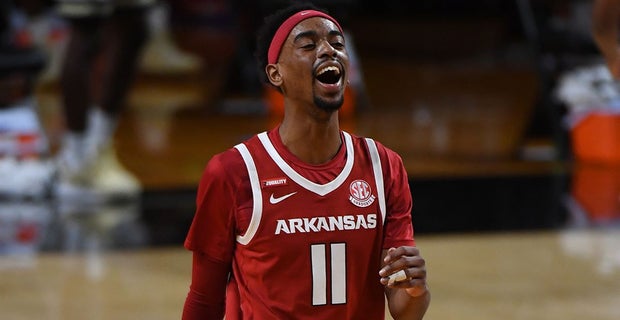 26. Arkansas (16-5)
The Razorbacks moved into Parrish's Top 25 and 1 after winning at Missouri on Sunday. But more than that, Arkansas is 6-1 over its last seven, with the only loss coming at Oklahoma State by four.
25. Rutgers (12-7)
The Scarlet Knights were somewhat left for dead after five straight losses dropped Rutgers to 7-6 and 3-6 in Big Ten play. But Rutgers has won five of six games since, only falling at Iowa.
24. Kansas (15-7)
The Jayhawks have taken advantage of a lighter stretch in the Big 12 schedule, winning three straight games and moving into third place in the Big 12 standings. The final stretch — Texas Tech, at Texas, Baylor — will tell the real tale.
23. Loyola Chicago (18-3)
Here come the Ramblers. Remember the freshman center who started in Loyola's stunning run to the 2018 Final Four? He's a senior averaging 15.3 points per game and the leader of this year's squad, which is all the way up to No. 10 in KenPom. That's right: this year's team is better than that 2018 version.
22. Louisville (11-4)
The Cardinals are in the middle of a two-week break; they haven't played since Feb. 1 and won't play again until Feb. 17. The last time out was an encouraging showing though, as Louisville got a combined 44 points from sophomores David Johnson and Samuell Williamson.
21. Texas Tech (14-6)
The Red Raiders play just about every big game close; even their most recent 11-point loss to West Virginia was a two-point game with two minutes left. Texas Tech's defense ensures few teams are able to pull away, but the problem with playing so many close games is sometimes, they inevitably go the other way.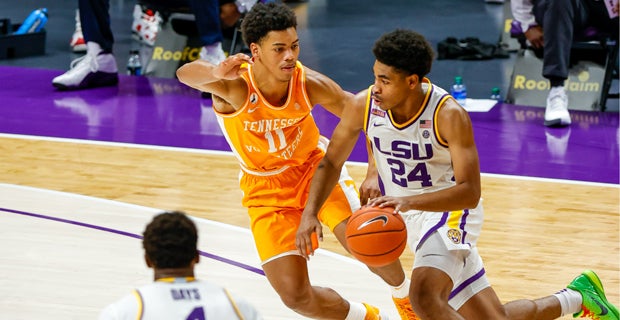 20. Tennessee (14-5)
The Volunteers fell three spots after falling in a rough performance at LSU Saturday, 78-65. Tennessee has struggled a bit with consistency of late; the Volunteers will look like world-beaters at times, but are just 4-4 in their last eight games.
19. Missouri (13-5)
Missouri is the biggest tumbler in this rankings update, falling nine spots. The Tigers have lost two games in a row, one an uninspired effort against Ole Miss, the other a more understandable defeat to Arkansas while the Tigers were without star post player Jeremiah Tilmon.
18. Creighton (16-5)
The Bluejays looked an awful lot like the preseason top 10 team they were in smashing Villanova by 16 points. Marcus Zegarowski looked like the top point guard in the country as Creighton set the pace and executed offensively, shooting 71.4% from 2 and 46.2% from 3.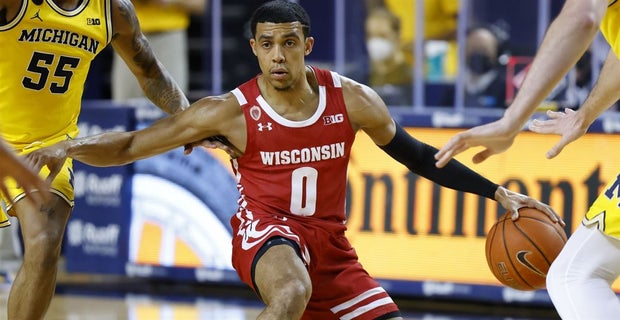 17. Wisconsin (15-6)
The Badgers have slipped a bit in the rankings of late, going 3-3 over their last six games heading into Sunday's showdown with Michigan. That game represents a serious opportunity—Michigan is coming back after not playing for three weeks.
16. Iowa (15-6)
The Hawkeyes have now won two in a row after handing Michigan State its worst defeat of the Tom Izzo era in a 30-point Iowa victory. Most notable about that game? Iowa romped despite likely National Player of the Year Luka Garza scoring under 16 points for the first time all year (he had eight).
15. Virginia Tech (14-4)
The Hokies have had some big-time efforts this year, but could stand to find a bit more consistency. This week — 11-point loss at Pittsburgh, overtime win over 7-11 Miami — wasn't one of Virginia Tech's best. But this is a team with wins over Villanova and Virginia, the latter by 14 points.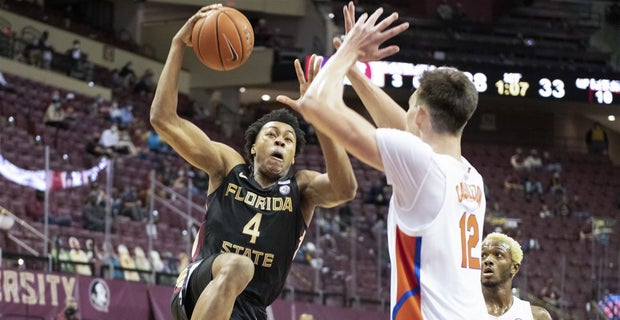 14. Florida State (11-3)
The Seminoles returned for the first time in two weeks Saturday, holding off Wake Forest 92-85 in overtime. That game saw the Seminoles down two late in the game, only to have former 247Sports Composite five-star Scottie Barnes drive to the hoop for the game-tying basket with 0.5 seconds left. The 'Noles will need to be better against Virginia Monday.
13. USC (17-3)
The Trojans' five-star freshman, Evan Mobley, arguably doesn't get the notice he deserves on a national stage. But he's seventh in KenPom's National Player of the Year formula, and over USC's current six-game winning streak, he's averaging 18 points, 9.8 rebounds and 3.3 blocks per game while playing serious defense.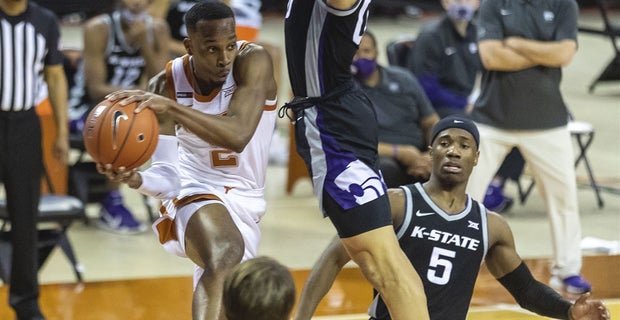 12. Texas (13-5)
The Longhorns had been in a bit of a slump of late, losing three straight then winning a tight game against Kansas State. But Texas found its footing again in a 15-point win against TCU, with Matt Coleman making some key plays and Andrew Jones continuing on his scoring rampage. The last time Jones was held without at least 11 points came on Dec. 6.
11. Villanova (13-3)
The Wildcats dropped from No. 6 heading into the weekend after getting handled by a Creighton team firing on all cylinders. Villanova trailed by 21 points with under two minutes left, though the final margin was slightly more friendly at 86-70. When Creighton is playing like that, there aren't many teams that can keep pace with the Bluejays, though it also didn't help to assuage concerns about Villanova's defense since the Wildcats' return to action about a month ago.
10. WEST VIRGINIA (14-6)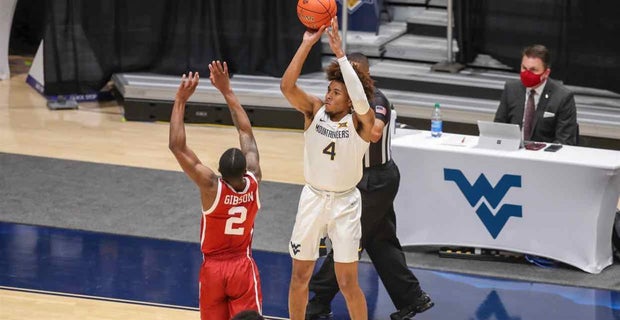 The Mountaineers didn't drop far, nor should they, after losing a hard-fought double-overtime matchup with Oklahoma. The scary thing here — and this is a trend for some top teams — is that this looks like arguably Bob Huggins' top offensive squad, but the Mountaineers struggle to generate consistent stops. In games where Miles McBride is less than perfect — he had 19 points but on 19 shots against Oklahoma — that can make West Virginia a bit vulnerable. West Virginia is 5-2 over its last seven games; in the two losses, McBride made 9-of-34 shots. He's not going to shoot well for six straight games in March, so West Virginia needs to show up well on the other end of the court.
9. VIRGINIA (15-3)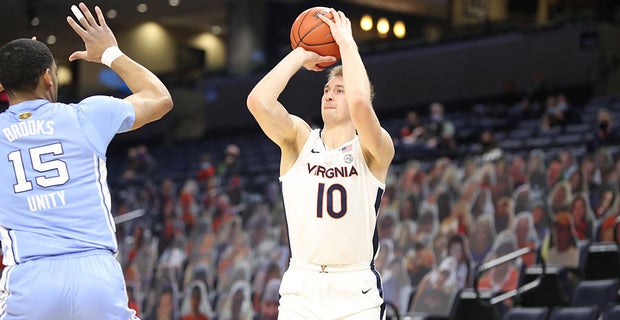 The Cavaliers got off to a bit of a rough 4-2 start, one that included a loss to San Francisco, an overtime win over Kent State and a thrashing by Gonzaga. Since, Virginia is 11-1 and has looked more like the top 5-10 team that many projected before the season started. Virginia takes care of the ball and is one of the nation's best shooting teams, a squad that can hit outside shots from several spots. And the Cavaliers are still capable of shutting teams down, even if the defense isn't quite as elite as it has been in recent years, as Virginia has shown in back-to-back wins where opponents Georgia Tech and North Carolina failed to crack 50 points.https://4be79af6fb6769ae5fc33ec5bb26fe19.safeframe.googlesyndication.com/safeframe/1-0-37/html/container.html
8. OKLAHOMA (13-5)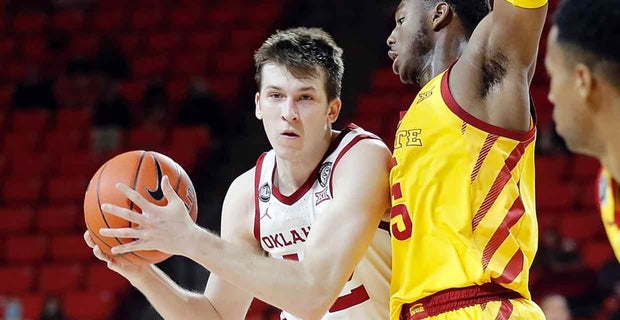 The Sooners have been terrific since Elijah Harkless hopped into the starting lineup, and continued that run Saturday with a double overtime win at a West Virginia team that was looking increasingly like the Big 12's second-best squad. Instead, Oklahoma sits alone in second place, and the Sooners landed the season sweep over the Mountaineers. They've lost just twice since Harkless began starting, at Kansas in his first start and at Texas Tech when the Sooners were without two starters. Out of the Sooners' seven wins over that period, four have come against teams in KenPom's top 25. A Tuesday showdown against Texas looms large.
7. ALABAMA (17-5)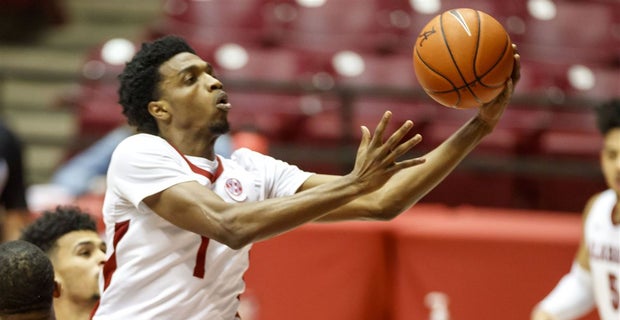 Alabama gets plenty of love for Nate Oats' freewheeling, up-tempo, 3-point launching system. But it's worth noting that the Crimson Tide rank first in the nation in one category, and it's not on offense. That's right, Alabama currently has the nation's most efficient defense, a scary thought for those who watched Alabama shoot 60% from 3 and make 18 3-pointers in the Crimson Tide's record-setting 115-82 win over Georgia on Saturday, scoring the most points ever in an SEC game. It included the first time Herbert Jones has looked like, well, Herbert Jones in awhile, with the Alabama senior finishing with 21 points, five rebounds, four assists and three blocked shots. When eight players make 3-pointers, as Alabama did in that game, there aren't really many (any?) teams that can beat the Tide.
6. HOUSTON (17-2)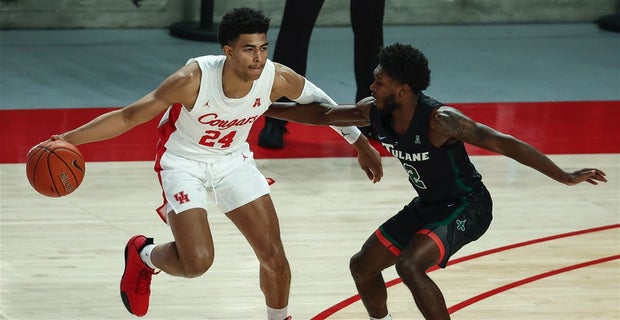 For as much love as Baylor gets for having the nation's best backcourt — and rightly so — Houston isn't that far off. Quentin Grimes is having a big season and is coming off a 29-point outing that saw DeJon Jarreau kick in 17 points and eight assists and Marcus Sasser finish with seven assists and three steals. Add in star freshman Tramon Mark off the bench, and the Cougars' backcourt can compete with anybody in the nation. With an elite defense to boot, Houston is a team that appears to be tracking as a squad that can make a deep NCAA Tournament run. Before that though, the Cougars need to finish up AAC play, complete with three games against the next four teams in the AAC standings.
5. ILLINOIS (14-5)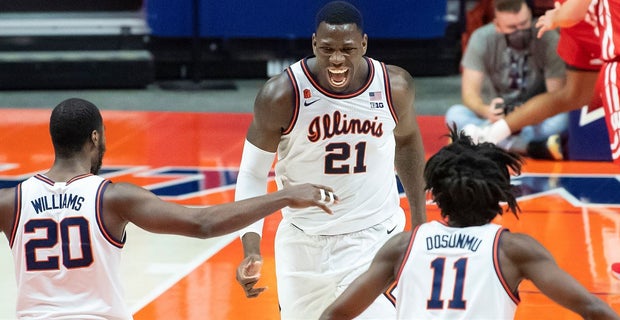 It wasn't long ago that the Fighting Illini were sitting at 9-5 and 5-3 in Big Ten play. But now Illinois sits in second place in a loaded Big Ten after winning five straight games, with four of those victories coming against teams in KenPom's top 30. Probably the least impressive showing was Illinois' last game, an overtime win at a Nebraska team without a Big Ten win this season. But Ayo Dosunmu came up big in the clutch again, Kofi Cockburn chipped in 21 points on eight shots from the field, 13 rebounds and four blocked shots and the Fighting Illini survived. Perhaps only Ohio State is hotter right now as Big Ten teams go, which means Illinois is right where it wants to be heading into March.
4. OHIO STATE (17-4)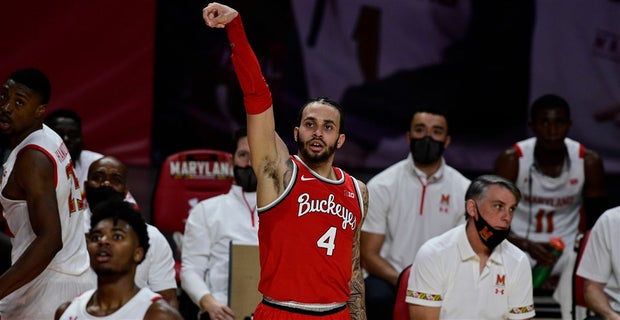 Indiana coach Archie Miller called Ohio State the most physical team that the Hoosiers would face this year. And in the wake of the Buckeyes' 78-59 win over Indiana Saturday, it was tough to argue. The Buckeyes have won six straight and nine of their last 10, with their lone defeat coming in mid January by two points. Ohio State is also mentally tough; the Buckeyes rank 11th nationally in turnover rate, and have built one of the nation's most efficient offenses. Don't sleep on the defense either, while it isn't one of the nation's best units, the Buckeyes have shown flashes of being able to lock down at times, and certainly did for extended periods against Indiana. The next step—being that team defensively more often.
3. MICHIGAN (13-1)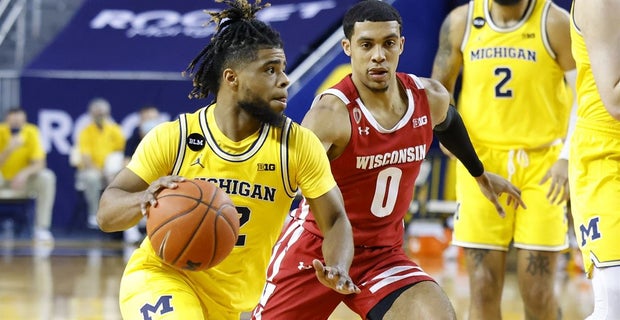 The Wolverines will be back on the court for the first time in more than three weeks Sunday. And with the way breaks have affected other teams, it's worth asking whether Michigan will be able to maintain the momentum it had built before leaving the court. The only loss Michigan has taken on the year was an outlier showing at Minnesota, where the Golden Gophers have been nearly unbeatable. Michigan doesn't have long to get back into things—Sunday's game comes against a ranked Wisconsin team, with contests against Rutgers and red-hot rival Ohio State arriving next week. The latter game could announce which Big Ten team is currently in the best shape.
2. BAYLOR (17-0)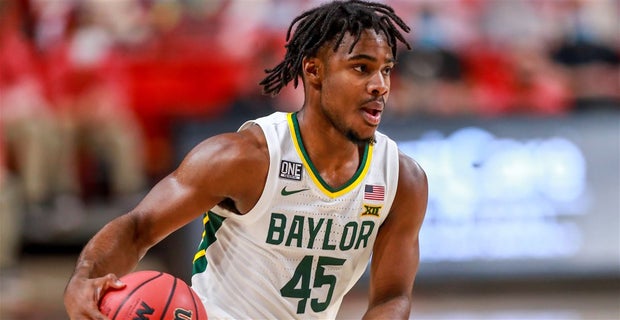 Baylor has been out of action since Feb. 2 and isn't scheduled to return until Feb. 20. And that's unfortunate—as currently scheduled the Bears will avoid playing much of their schedule against the Big 12's top teams. The other league teams besides Baylor in the NCAA Tournament selection committee's top 16 teams are Oklahoma, Texas, West Virginia and Texas Tech; if games aren't rescheduled, Baylor will miss at least one game with all four of them and won't play West Virginia at all. A veteran team should be able to handle the break in play, and Baylor will be as dangerous as anyone come March.
1. GONZAGA (20-0)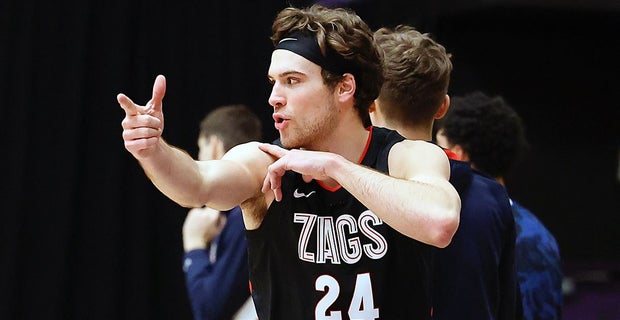 The Bulldogs keep on rolling and — at least on KenPom — have started to build a little bit of a gap between themselves and an idle Baylor. This past week saw the Bulldogs take on two of the better West Coast Conference teams (though San Francisco hasn't quite performed up to level in league play) and come out with two more double-digit victories. Per KenPom, Gonzaga now has a 96.7% chance to win its last two games and end the regular season undefeated, and its KenPom statistical profile is starting to match up with some of the better teams of the last 20 or so years.