by Jarrett Johnson for Inside the Red Raiders
Mark Adams was introduced as Texas Tech's 18th basketball coach Tuesday evening during a party at United Supermarkets Arena before a throng of Red Raider fans. The event was a cathartic celebration of both Adams and the Texas Tech basketball program.
"It's a great opportunity that I've looked forward to my whole life," Adams said. "To lead this program is a great honor. I just want to make a difference and make everyone proud. We are going to do everything we can to win big and compete every day. To be the head coach of this program has been a dream of mine my entire life."
A handful of current players were in attendance Tuesday night to which Adams announced all present would be returning to play next season. It was a nice moment for Adams and the fan base who have understandably wondered how many, if any at all would be returning following Chris Beard's defection to in-state conference rival Texas last week.
Three Texas Tech players entered the transfer portal since the season ended and Inside the Red Raiders learned of at least one more who was seriously considering transferring as well, but since the news of Adams' promotion, three of those four players have already announced they would be returning and it appears several more might as well.
In fact, according to a report from Jon Rothstein, as of Wednesday morning, Adams was operating under the assumption everyone would be coming back because to that point nobody had told him they are leaving.
"No one has said that they're not coming back," Adams said. I want them to do whatever is best for them, but no one has said that they're not returning."
The following is a list of players from last season and their current status in terms of whether they are expected to return for next season or not. This list will be updated throughout the offseason, but only with news stated by coach Adams, the program or the players.
KYLER EDWARDS
Kyler Edwards entered the transfer portal at one point this offseason, but announced via social media that he would be returning the same day Mark Adams was announced as new head coach at Texas Tech.
The 6-foot-4, veteran guard averaged 10.1 points, 4.8 rebounds, 2.8 assists, 1.1 steals and 0.5 blocks a game in 29 appearances, including 26 starts, last season. He shot .408 shooting from the field, .418 from deep and .789 from the free throw line, plus finished with a 2.1-1 turnover-to-assist ratio. Edwards is also the lone holdover from the 2018-19 national runner-up team.
KEVIN MCCULLAR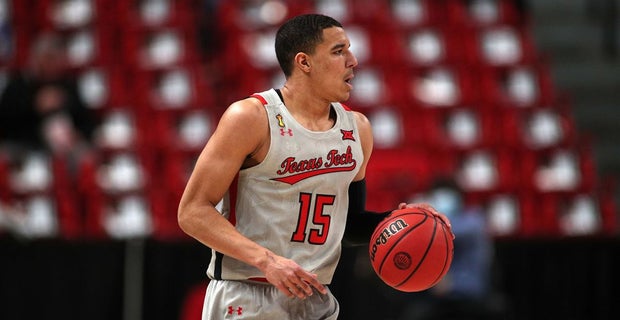 Kevin McCullar posted a cryptic message on Twitter last week saying he had decisions to make, presumably about his future as a Red Raider. Though it was reported by some he had entered the transfer portal, there is no record of him officially doing so.
That being said, McCullar was clearly weighing his options, but was the first to announce he was returning just minutes following the official announcement that Mark Adams was being promoted to head coach. 
"Texas Tech is in my blood. It has been so special to be part of a family like Red Raider Nation," said McCullar via Twitter. "I have been blessed with this opportunity and after talking with Coach Adams and my family, it's in my best interest to stay at Texas Tech. We have unfinished business. #WreckEm I'M NOT GOING ANYWHERE."
The 6-foot-6 guard averaged 10.4 points, 6.3 rebounds, 2.1 assists, 1.7 steals and 0.8 blocks per game last season in 20 appearances, including 19 starts.
MICAH PEAVY
Micah Peavy entered the transfer portal this offseason and as of now is still in the portal. Michigan and Texas are reportedly among those interested in adding Peavy.
The 6-foot-7 guard averaged 5.7 points, 3.1 rebounds and 1.4 assists a game in 29 appearances, including 25 starts last season as a true freshman.
MAC MCCLUNG
It has been radio silent so far for Mac McClung. As the tweet stated earlier in the story, Adams was set to meet with McClung so there could be movement here soon so stay tuned.
Mac McClung led Texas Tech in scoring with 15.5 points a game to go with 2.7 rebounds, 2.1 assists and 0.8 steals last season. He started every game for the Red Raiders.
MARCUS SANTOS-SILVA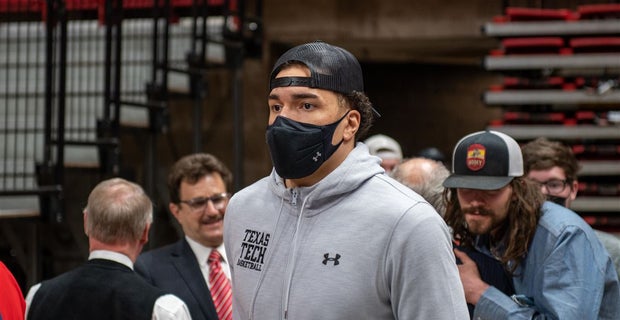 Marcus Santos-Silva is the third Red Raider who entered the transfer portal, and like Edwards, he is returning now that Adams has been promoted to head coach. In fact, Santos-Silva was one of the handful in attendance for Adams' introductory party Tuesday.
The 6-foot-7 forward averaged 8.3 points, 6.4 rebounds, 1.3 assists, 1.1 blocks and 0.7 steals a game in 29 appearances as a starter in each game last season.
TERRENCE SHANNON
Terrence Shannon has been very active and positive on social media supporting both Chris Beard's decision to go to Texas and Mark Adams' promotion. The thought all along has been that Shannon would go test NBA waters this offseason. If it is suggested he needs more work before making the leap to professional ball, perhaps he will return for another season at Texas Tech.
The 6-foot-6 guard averaged 12.9 points, 4.0 rebounds, 1.4 assists, 1,1 steals and a ton of charges taken in 28 appearances last season, mostly off the bench after reportedly volunteering to be sixth man for the sake of team chemistry.
TYREEK SMITH
Tyreek Smith hasn't shown up in the portal, but hasn't announced his return to Texas Tech as of yet either.
His return would be welcome as Smith showed a lot of potential off the bench last season. His athleticism and length especially showed up on defense as a rim protector and offensively as an explosive finisher on rolls to the basket.
The 6-foot-7 forward appeared in every game last season, finishing with 2.6 points, 2.4 rebounds and 0.7 blocks in just 8.6 minutes per game last season.
CLARENCE NADOLNY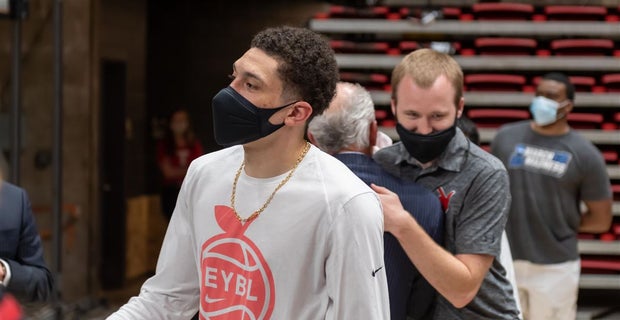 Clarence Nadolny was also in attendance for Mark Adams' promotion party so he is among those players expected to return which is a good thing because he appeared to turn a corner last season and has the potential to be a very good player moving forward, especially on defense.
VLAD GOLDIN
There hasn't been much word on if Vlad Goldin is returning or not which is probably unsurprising given his recruitment was hush-hush as well. The 7-foot Russian only appeared in 10 games as a true freshman last season, but quickly became a fan favorite, especially in the student section.
AVERY BENSON
Avery Benson was another one of the handful of players who attended the Mark Adams/Texas Tech hoops celebration on Tuesday. Though Benson has played sparingly over the years he has made big impacts in big time games, plus is liked and respected by all so his return is a big plus for the program.
CHIBUZO AGBO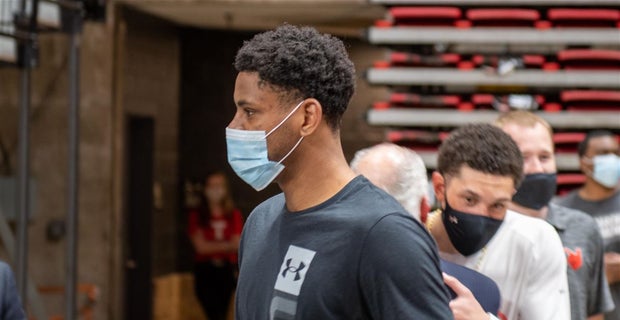 Chibuzo Agbo has a bright future which is why he has been one of the most asked about players since Beard left. The fact he was at Mark Adams' party and has been confirmed as returning was cause for celebration in itself. 
Though the 6-foot-7 guard averaged only 6.3 minutes per game as a true freshman last season, he made some big plays in Big 12 action and then played a lot down the stretch of Texas Tech's second-round NCAA tournament game with Arkansas in which he scored six points and pulled down two rebounds. 
JAMARIUS BURTON
There has been no word yet from Jamarius Burton on whether he intends to return or not. The initial plan was for him to redshirt this past season, but since the NCAA granted an extra season of eligibility to everyone he ended up playing.
The 6-foot-4 guard had an up and down year and missed a handful of games due to injury. He averaged 4.3 points, 1.8 rebounds and an assist in 25 appearances, including four starts last season.
JAYLON TYSON
Jaylon Tyson wasn't on the team this past season, but he did sign with Texas Tech back in November. Normally, when there's a coaching change if a recruit asks out of his signed Letter of Intent that request is granted.
As of the publishing of this story Tyson was still committed to Texas Tech. He has retweeted a lot of the Mark Adams promotion tweets, but has not come out and and stated he plans on returning. Inside the Red Raiders has interviewed Tyson on several occasions, but has yet to hear back from him since the coaching change.
The 6-foot-6 wing is not only one of the top recruits in Texas, he's rated as the No. 35 overall prospect in the nation for the 2021 class. Here's a scouting report from 247Sports recruiting analyst Brandon Jenkins:
"Tyson is a scoring wing who can make shots from all three ranges. What makes him special is his size, strength, and skill. Tyson has a lot in his triple threat bag as he can put the ball on the floor effectively to create a shot or get to the rim or shoot the ball accurately with range. He is strong with the ball in his hands and is a solid passer who can make the right finds on his attack. A prospect who blew up during the beginning of his junior high school season, Tyson has all the tools to be a productive offensive talent in the Big XII."