by Dean Straaka for Inside the Red Raiders
On any given Saturday during the college football season, there's potential for chaos to unfold. That certainly rings true in the Big 12, where every team is arguably more familiar with each other than any other Power 5 conference given the league's round-robin scheduling format. It perhaps only makes each game that much more difficult, with the conference's top teams frequently cannibalizing each other — so to speak — before the dust ultimately settles and a conference champion is crowned.
As the 2021 season looms, there are the usual suspects in the Big 12. Oklahoma enters as the six-time defending champions, and it's no secret that every opponent the team faces will be circling their respective date with the Sooners well in advance on the calendar. The same goes for Iowa State with the breakthrough success that the program has enjoyed under Matt Campbell, and Texas has a relatively large target on its back, too, as excitement abounds with the arrival of new head coach Steve Sarkisian.
Of course, anyone who has watched Big 12 football over the years knows that it's not just those teams that are capable of causing problems. And even the top dogs must keep their head on a swivel on all times, or suddenly, they might become the victim of a stunning upset.
As we continue to work our way through the offseason, we decided to offer our take on the most dangerous game for each Big 12 football team in 2021. To make things clear, "dangerous," in this instance, isn't referring to objectively difficult opponents that teams have circled on their calendar — Texas, for example, won't need any extra motivation for its almost always-pivotal Red River Rivalry matchup vs. Oklahoma. The matchups listed below more closely resemble what one might call "trap games" — recent history, schedules, and more went into identifying those — or ones that could come as an unexpected and significant blow in the short and/or longterm if the said team loses.
BAYLOR: VS. BYU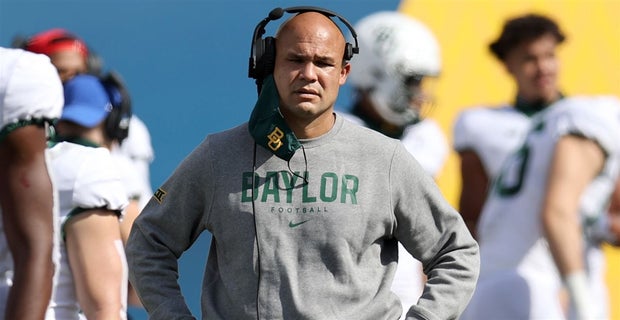 Date: Saturday, Oct. 16
A 3-0 start to Baylor's second season under Dave Aranda looks plausible with Texas State, Texas Southern and Kansas checking in as the Bears' first three opponents. After that, it's hard to firmly pencil in a win for a program that won just two games a year ago and has questions at quarterback following Charlie Brewer's departure for Utah. If anything, though, its the Bears' mid-season home matchup with BYU — the team from which Dave Aranda and Co. poached new offensive coordinator Jeff Grimes — that could make or break the season. For greater context, that matchup is followed up by a brutal three-game slate for Baylor — vs. Texas, at rival TCU, and vs. Oklahoma — before the season ends with a road trip to Kansas State and then a home game vs. Texas Tech. Should Baylor enter the BYU game with four wins or less, a home loss to a Cougars squad that has been projected anywhere from 5 to 10 wins this fall could ultimately put any postseason hopes on the ropes for the Bears. Not to mention, consecutive seasons without a bowl game to begin Aranda's tenure in Waco would likely open an entirely different can of worms.https://6fcfdb10a52c73f72b8ee0d4b3653ee3.safeframe.googlesyndication.com/safeframe/1-0-38/html/container.html
IOWA STATE: VS. IOWA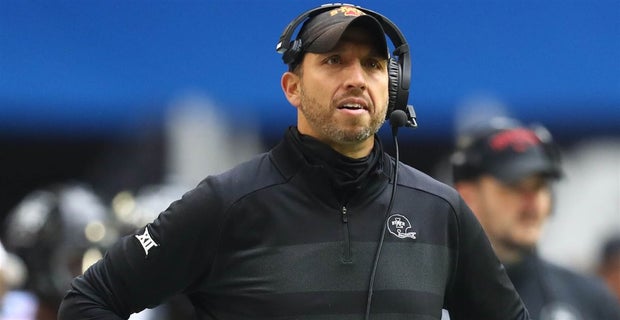 Date: Saturday, Sept. 11
There's no denying that the Cyclones have turned a corner under Matt Campbell, but one of the most puzzling patterns in recent years is Iowa State's continued struggles in non-conference play. 2019 saw the the 'Clones nearly fall in overtime in its season-opener vs. Northern Iowa, and disaster finally struck last year when Louisiana handed Iowa State a startling 31-16 loss in Ames. For that reason, the Cy-Hawk game — a series that the Cyclones have not prevailed in since 2014 — is our pick here. While the Hawkeyes don't scream "Big Ten title contender," Kirk Ferentz's group returns all five members of a dominant secondary, a second-year quarterback and all-Big Ten running back Tyler Goodson. For all the returning talent that Iowa State has — and there is plenty of it — Campbell's group needs to enter this game with a sense of urgency, or the team's playoff aspirations could be on life support before Big 12 play even arrives.
KANSAS: VS. KANSAS STATE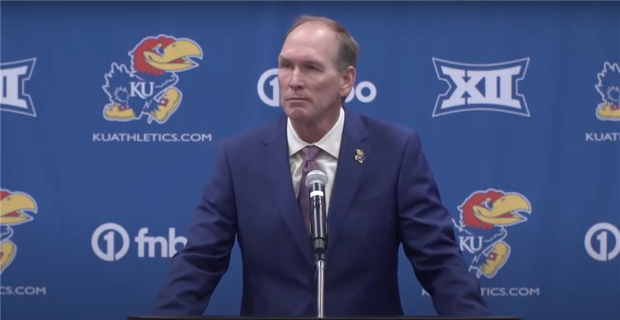 Date: Saturday, Nov. 6
When you endure a winless season and then see both your head coach and athletic director exit amid controversy, as Kansas experienced within the past 12 months, it's naturally difficult to single one game out as more "dangerous" than the rest. That said, state bragging rights are always on the line with the annual "Sunflower Showdown" between Kansas and Kansas State. The Jayhawks, at this pace, won't be picked to win a contest in a series they have not prevailed in since 2008, but can they at least keep it close after getting blown out by the Wildcats each of the past two years? KU suffered a 38-10 defeat in 2019 before enduring 5-14 setback last fall. A third straight outcome to that tune would be particularly damaging to already suffering recruiting efforts — especially on the local front — entering next offseason. And that is among the last things that first-year coach Lance Leipold needs as he looks to be the one who finally turns the program around.
KANSAS STATE: STANFORD (AT&T STADIUM; ARLINGTON, TEXAS)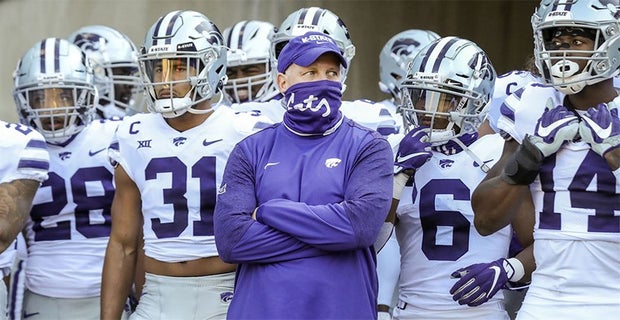 Date: Saturday, Sept. 4
What is clear right now is that Kansas State's start to Big 12 play will be brutal: The Wildcats open conference play at Oklahoma State, followed back-to-back home games against conference heavyweights Iowa State and Oklahoma and then an always unpredictable visit to Texas Tech. With that in mind, it's imperative that K-State establishes momentum in non-conference play, making the team's season-opener vs. Stanford at AT&T Stadium in Arlington of utmost importance. Gone is quarterback Davis Mills, but the Cardinal hasn't had many issues when it comes to finding the next man up at signal-caller over the years, and David Shaw's group has some momentum coming into 2021 after ending 2020 on a four-game winning streak. As for K-State, the ending to the 2020 was anything but a momentum booster as the 'Cats lost five straight games to close things out. Simply put, if Chris Klieman's group doesn't use this contest to set a positive tone early, K-State's goals for 2021 could be out the window at or before the midway point of the season.
OKLAHOMA: AT KANSAS STATE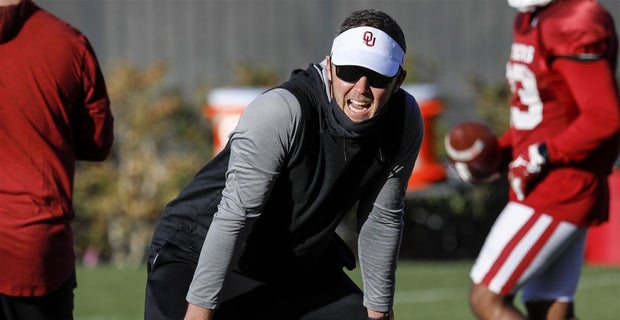 Date: Saturday, Oct. 2
Nobody saw Oklahoma's stunning 48-41 loss at Kansas State coming in 2019, and it certainly didn't seem like the Sooners would be dropping a second straight meeting to the Wildcats last September when OU led by double-digits on home turf entering the fourth quarter. Alas, the Sooners sit 0-2 against K-State since Chris Klieman took over from Bill Snyder in the Little Apple, so it's fair to say that Lincoln Riley's group will need to keep its head on a swivel and not look past the 'Cats when it heads to Manhattan just one week ahead of the Red River Rivalry game. K-State returns quarterback Skylar Thompson for yet another year after Thompson rushed for multiple touchdowns in each of the past two meetings, and Deuce Vaughn — projected to be one of the nation's most dynamic running backs in 2021 — is set to be a test even for a much improved Sooners defense after he accounted for more than 1,000 all-purpose yards a year ago.
OKLAHOMA STATE: AT TEXAS TECH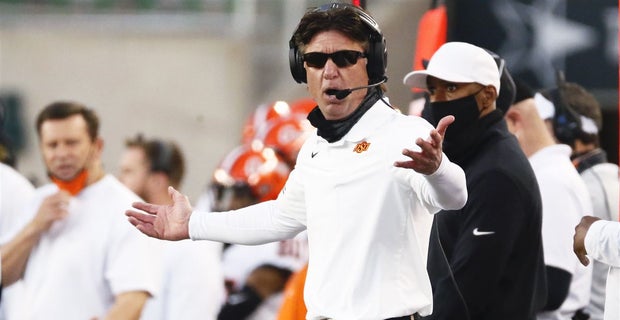 Date: Saturday, Nov. 20
Strange things tend to happen on the windy plains of West Texas, and the Pokes' recent history with the Red Raiders only gives Oklahoma State that much more reason to be wary of its late-season trip to Lubbock. Each of the Cowboys' last three wins vs. the Red Raiders — 2016, 2017 and 2020 — have come by a touchdown or less, and both the 2018 and 2019 seasons saw Oklahoma State fall to Tech by double-digits in rather unexpected fashion. Fast forward back to this season, and the Red Raiders offense is expected to take at least some leap with the arrival of former Oregon starting quarterback Tyler Shough and the return of Sonny Cumbie to his alma mater as offensive coordinator. As for Mike Gundy's group, only time will tell if the Pokes are a factor in the Big 12 when this game rolls around, but it's one that has potential to cause problems if his team looks ahead to the Bedlam game a week later while overlooking the Red Raiders.
TCU: VS. SMU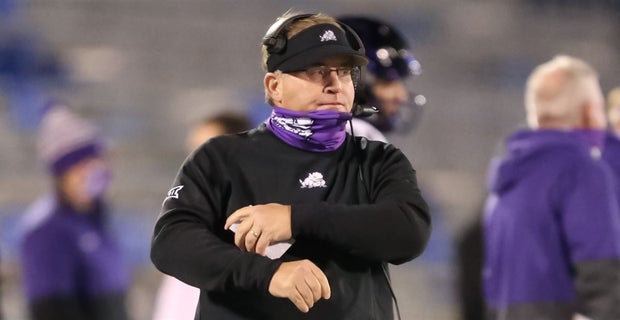 Date: Saturday, Sept. 25
Games among the likes of Oklahoma, Texas, and Iowa State will all be circled on the calendar for the Horned Frogs in 2021, and rightfully so. But will the same go for the team's home game vs. an SMU squad that always plays with a bit more passion against its cross-metroplex rival? The Mustangs stunned Gary Patterson and Co. the last time the two schools met in 2019, 41-38, for the team's first victory in the series since 2011, and like the 2019 team, SMU has no shortage of Power-5 level talent via the transfer portal. A pair of offseason arrivals from Oklahoma — quarterback Tanner Mordecai and tight end Grant Calcaterra — are expected to play key roles on offense this season on the Hilltop, and while TCU is known for fielding a stout defense, the secondary does have some holes to plug after losing defensive backs Trevon Moehrig and Ar'Darius Washington. It will be easy for the Frogs to fix their attention on their Big 12 opener vs. the Longhorns a week later, but that game loses some luster if TCU already has a blemish on its schedule exiting non-conference play, and that without any bye weeks remaining.
TEXAS: AT TCU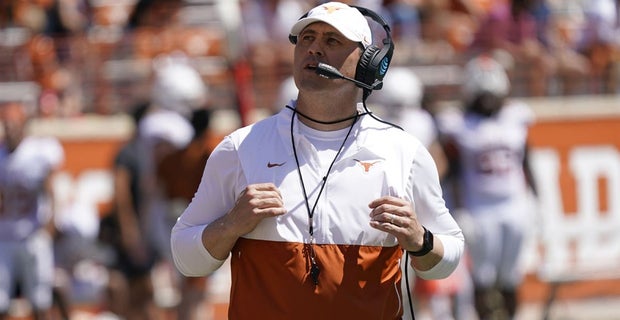 Date: Saturday, Oct. 2
Gary Patterson and TCU have given Texas no shortage of fits in recent years, with the Horned Frogs defeating the Longhorns seven out of nine times since joining the Big 12 in 2012. So will Steve Sarkisian be the one who finally leads Texas to its first win in Fort Worth since the final season of the Mack Brown era back in 2013? Like last year's meeting in early October — a 33-31 Horned Frogs victory in Austin — the 2021 TCU-Texas matchup comes just one game before the Longhorns' annual rivalry game vs. Oklahoma. It will be up to Sarkisian to ensure that Texas doesn't look past an opponent that has developed no shortage of confidence in recent years against its in-state foe. Quarterback Max Duggan and receiver/former Texas commit Quentin Johnston are among those back in action for TCU after both caused issues for the Longhorns last October, and former 5-star prospect Zach Evans is expected to take charge in the Horned Frogs backfield after posting a pair of 100-yard rushing performances over the team's final three games of 2020.
TEXAS TECH: HOUSTON (NRG STADIUM)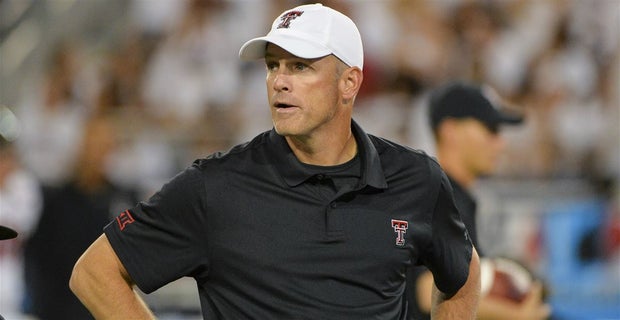 Date: Saturday, Sept. 4
The level of patience among Texas Tech fans isn't exactly high with the program sitting at 8-14 two seasons into the Matt Wells era, and the Red Raiders' Big 12 slate for 2021 isn't exactly easy at the start with back-to-back road trips against Texas and West Virginia at the front end. And among the non-conference matchups before then is a potentially tricky contest vs. Houston to kick things off in Week 1. This will be the first go-around for Tech offense's with Sonny Cumbie calling the shots and Tyler Shough taking the snaps, and on the other side, Cougars head coach Dana Holgorsen is no stranger to the Big 12 from his days as the head coach at West Virginia and as an assistant for Tech and Oklahoma State. The Red Raiders were able to survive Houston Baptist in their season opener a year ago despite allowing more than 500 passing yards, but another lackadaisical outing out of the gate like that likely won't cut it vs. UH. A season-opening loss could lead to things spiraling out of control for Tech rather quickly, and that's something that Wells simply can't afford.
WEST VIRGINIA: VS. VIRGINIA TECH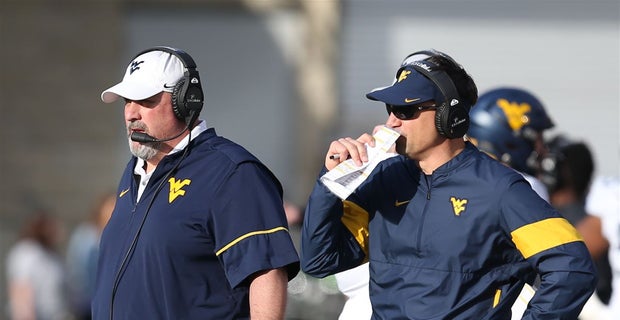 Date: Saturday, Sept. 18
This was a matchup that bit West Virginia in Week 1 of the 2017 season, so will things end on happier note this time for the Mountaineers the scenery shifts to Morgantown? Virginia Tech's visit to Mountaineer Field will mark West Virginia's second game of the season against a non-conference Power 5 opponent, with the Mountaineers already slated to open the season at Maryland on Sept. 4. And while the matchup with the Terps will be penciled in by many as a West Virginia victory, more uncertainty is present for a matchup against a Hokies team that is projected to be a middle-of-the road ACC squad. Considering West Virginia will be tasked with opening Big 12 play at Oklahoma just a week after this one, this is one where it sure feels as if Neal Brown's squad needs the victory, or West Virginia may very well have multiple losses on its resume by the time September ends.